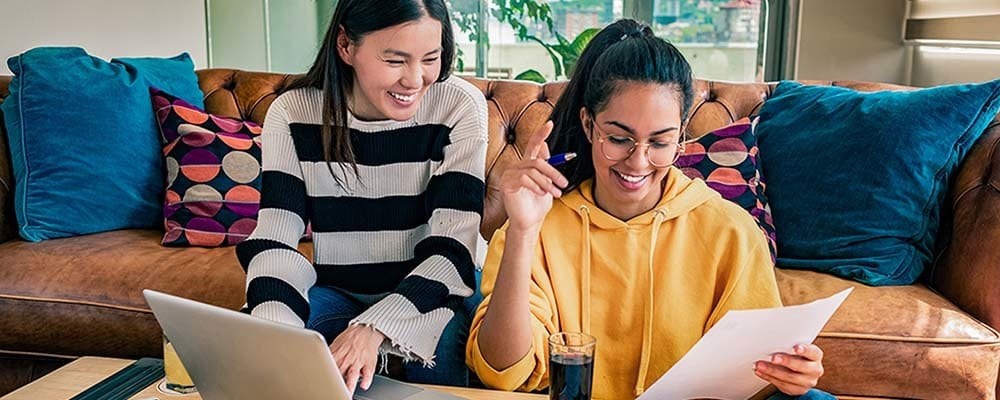 When it comes to renting student accommodation, dual occupation is an excellent way to save money that can be spent on other, more exciting things. And – if you're a student at De Montfort University or Leicester University – you'll find that, once you've made the decision to look for dual occupancy student accommodation, Leicester has plenty of choice.
Compact studio apartments for example, are by their very nature, a great way to spend less on rent and they're made all the more cost effective when you're sharing that space with someone else.
It might be that you have a close friend to share with, or you're in a relationship that's at the point where you want to live together – in these cases, the benefits of dual occupancy are numerous and one of the biggest is that the bills are of course, lower when they're halved.
It may also be that a studio apartment, or small flat is perfect for your budget, but you feel nervous about living on your own. So in addition to halving the costs, you get the added security of having someone there to keep you company, keep an eye on your belongings when you're not there and help you feel more safe.
What to look for in your dual occupancy student accommodation
Before you take the step to go for dual occupancy student accommodation in Leicester, it's vital to ensure you take the time to check out what's around and have a look at the many places that are available to you. It's worth giving yourself plenty of opportunity to find student accommodation that ticks all the right boxes, so look for the following:
The right location. What's important to have close to you? Shops, uni, public transport?
Is it the sort of area you want to live in?
Is it right for your budget? If funds are tight, spend plenty of time looking at what's available to ensure you get the best for your money.
Check the flat is well kept, clean and in a good state of repair. Plenty of student accommodation is, so never settle for something sub standard.
What are the neighbours like? Will they afford you enough quiet time to study, but won't kick up a fuss when you need to socialise?
Watch out for any hidden fees that your budget may not stretch to – read the contract carefully for any small print.
In addition to a studio apartment, when you're looking for dual occupancy student accommodation in Leicester, one bedroom flats can be suitable for sharing as dual occupancy, too.
There will be a slight increase in weekly rent, as an extra person is living there, but nothing like if you were living in accommodation with more than one bedroom.
Each property has a different rate set by owner for the additional occupant. And again remember, there are lots of excellent one bedroom student flats in Leicester which are perfect for dual occupancy, so take the time to find what's right for you.
Contact Westmanor To Discuss Your Leicester Dual Occupancy
Student accommodation is certainly not what it used to be (it's loads better!). Properties have sprung up over the years which range from basic but comfortable en suite flats and high spec studios to brand new and luxurious Leicester properties for students with a bigger budget.
At Westmanor Student Living we are pleased to help thousands of students at the University of Leicester and De Montfort University find their perfect places to live year after year.
And we've got some fantastic dual occupation properties to suit every taste and budget. If you're looking for dual occupancy student accommodation in Leicester, why not start with some of the hundreds that we have on our portfolio and get in touch with us at the DMU office or Leicester University office today to find out more?