Q. My drain/toilet is blocked, what should I do?
Firstly you need to check if the drain is blocked with hair or in the case of a toilet, sanitary products. If it is then it is your responsibility to rectify this. If you have checked this and still have an issue, please send in our maintenance request form at the bottom of this page (Please note that if a contractor is sent out and the issue is a fault of the tenant, there may be a charge). 
Q. All/part of my electrical items have switched off, what should I do?
Firstly, you will need to check the fuse box. This is a box full of switches that will usually be located above a door or in a cupboard (please see the image below). Once you have located it, please ensure that all switches are facing
in the same direction.
If one is not, then flip it and your issue should be solved.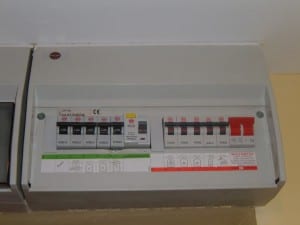 (example of a fuse box)
In the case of an appliance not switching on, it may need switching on at the isolator switch as well as the appliance itself. The isolator switch is usually located on a wall or in a cupboard nearby. If you are unable to locate this then please ask a member of our team who will be able to help.
Q.A light bulb has blown/fused, what should I do?
 If this is a standard bulb on a ceiling below 9 foot in height then you are usually responsible for replacing it yourself. If you are not sure, then please contact a member of our team. Please note that any tenants living in Hub Student, Clyde Court, The Platform, Grace House and Charles Apartments are responsible for replacing the light bulbs themselves. 
Q. A water heater/ electric heater will not switch on, what should I do?
Please ensure firstly that the heater is switched on at any isolator switches located on a wall nearby and on the heater itself. Please note that if an electric heater has blown a fuse due to drying items on them then there will be a charge if a contractor comes to fix it as this is a fault of the tenant. 
Q. My vacuum cleaner is not working, what should I do?
Please ensure that the vacuum bag has been emptied and placed back inside or in the case of a bag-less vacuum cleaner, it has been emptied as well as the filter being cleaned out. If you are still having issues then please send in a maintenance request form. 
Q. My washing machine is not draining, what should I do?
The filter may be blocked. You are responsible for emptying this yourself if you can get access to it. The filter is usually located behind an access hatch near the front base off the washing machine. You will need to Open the hatch, undo the filter cap and pull out the filter assembly then remove fluff and other debris. Ensure that you close everything fully before operating the machine again. If you have any other issues with your washing machine, please send in a maintenance form. 
Q. What if I have an emergency maintenance issue when the office is not open
Please click on the link below for information regarding this:
IF YOU LIVE IN THE PLATFORM, CLYDE COURT OR HUB STUDENT...
IF YOUR ISSUE IS AN EMERGENCY, you can call 0116 254 0541 to report it. Please click HERE to see a list of maintenance issues with timescales of repairs and what qualifies as an emergency.
If any other maintenance issue occurs during your tenancy, then you will be required to complete the below maintenance request form. The maintenance department will then inform our contractors to attend to your property if required. Please note that there is NO CHARGE for maintenance visits unless the issue is a fault of your own.
Please download the maintenance form provided below and email it to:
maintenance1@westmanorpropertyservices.co.uk if you are a tenant at our GRANGE LANE OFFICE
maintenance2@westmanorpropertyservices.co.uk if you are a tenant at our LONDON ROAD OFFICE