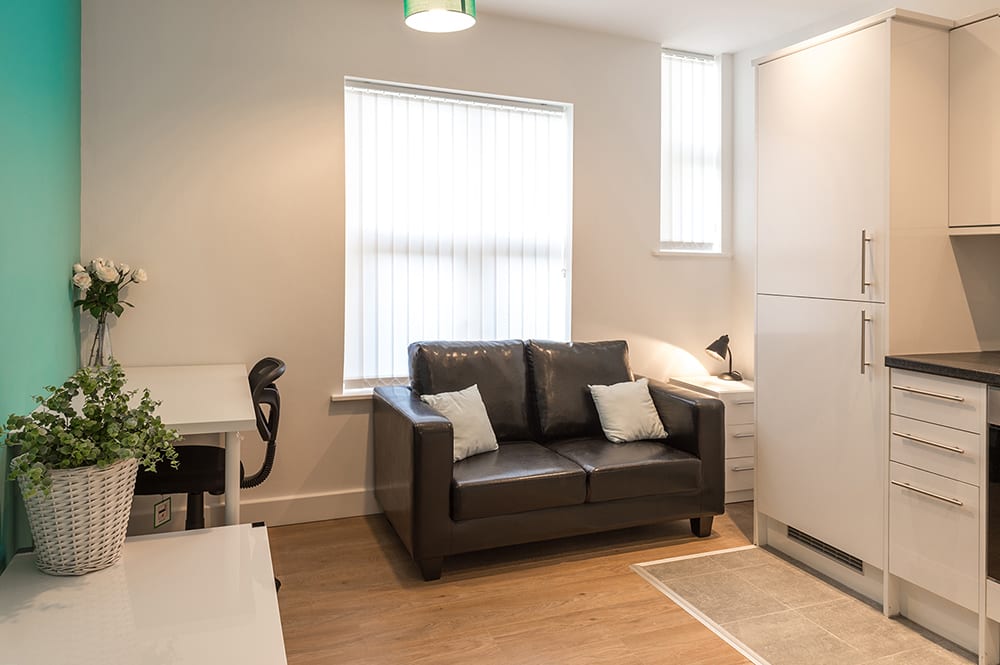 Gone are the days of student digs being damp and depressing, Leicester has some awesome state of the art places popping up all over the place, so when luxury student accommodation is what you need, then there's never too far to go. 
Back in the second half of the last century, student accommodation had a pretty poor reputation – just check out the likes of The Young Ones, for example. It couldn't be further from the amazing accommodation that there is today and – call us biased – but we reckon Leicester has some of the best.
Not only is there loads of new student accommodation all over the place, which has a wide range of all the mod cons as standard (flatscreen TVs, dishwasher, washer/dryer, Sky/broadband etc) – but, when it's something truly special that you're looking for, it's all there. And you'll be pleased to know that lots of the luxury student accommodation in Leicester is affordable too.
Each of our luxury properties has something extra special, from the on-site communal gyms and cinema rooms to the high hotel spec finishes, our premium luxury student accommodation is perfect for those wanting stylish student living.
And it's this, combined with a team of staff which is committed to providing excellent standards of services and accommodation, which means the benefits of choosing Westmanor for your luxury student accommodation are many.
Luxury Leicester student accommodation
While we like to think that most of our Leicester student accommodation is pretty special, here are some of the 'luxury' properties, right on the top end of the scale, which should truly blow your socks off.
Student Beehive
Complete with its own on-site gym and cinema room, this is luxury student accommodation that is truly exceptional. It's also only a five-minute walk to Leicester University and 15-20 minute walk to De Montfort University. Here you'll enjoy everything you'll need at university plus all-inclusive rents, free internet connection, free on-site laundry facilities, bike storage and a whole host more.
Millstone Place
These luxury studio, 2, 3 and 4-bed apartments were brand new in 2017 and have free Wi-Fi, water costs included, washer/dryer, microwave and large fridge freezers. In addition, there is a 24-hour emergency service and an energy allowance which makes them perfect for an individual student or a group looking to share.
Oxford House
With innovative interiors, spacious layout and much, much more, Oxford House has everything that the modern day student could need.
This stylish flat is in a great location just off the DMU campus and is especially convenient for medical students due to its proximity to the Leicester Royal Infirmary and the Hospital Hopper.
3A Welford Place
This was a brand new property for September 2017 and offers amazing studio and 2 bedroom flats right between DMU and the University of Leicester making it perfect for all students.
The spacious studios comprise of an open plan lounge/kitchen/bedroom with the kitchen area including an oven with 4 ring hob, large fridge freezer and washer/dryer and a separate private bathroom.
Get in touch for a viewing
If the thought of Leicester luxury student accommodation sounds right up your street, then why not come and take a look at the ones we have available at Westmanor Student Living? Get in touch with our Leicester University or De Montfort University offices today.